---
Arātrum
(
ἄροτρον
). A plough. The annexed illustrations will give a good notion of the various forms of ploughs employed in Greece and in Italy.

Primitive Forms of the Plough, Yoke, and Goad.
The following representation of a Roman plough is taken from a piece of engraved jasper.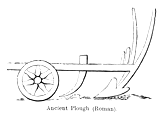 Ancient Plough (Roman).
See the articles
Agricultura
;
Iugum
.