---
Faelis
(
αἴλουρος
or
αἰέλουρος
, "wag-tail"). The cat, an animal domesticated by the Egyptians as early as the thirteenth century B.C., and by them regarded as a sacred animal, so that it was a capi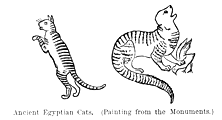 Ancient Egyptian Cats. (Painting from the Monuments.)
tal offence to kill one (
Diod. Sic.i. 83
). The cat typified to them the lunar goddess Pasht, and was frequently embalmed and sent to Bubastis for burial. (See
Bubastis
.) The early Greeks and Romans do not appear to have domesticated the cat as we have done, but instead employed a species of weasel (
γαλῆ
,
mustela
), or the whitebreasted marten (
faelis foina
). See Hehn,
Kulturpflanzen und Hausthiere (last ed. rev. by Schrader, 1894)
; and Houghton's
Natural History of the Ancients
, pp. 40-50. Cats first appear in literature as house animals about the fourth century A.D., but even as late as the Middle Ages they were comparatively rare and costly.