---
Lectus
(
λέκτρον
).
---
1.
A bed to sleep upon was called Lectus Cubiculāris (
Div. ii. 65
). The ancient bedsteads were of considerable height, requiring a footstool (
scamnum
), or a set of steps (
gradus
) to get into them; and were made like our largest-sized sofas, with a head-board (
anaclinterium
), sometimes a corresponding one against the feet, and a high back (
pluteus
) on the farther side, but entirely open on the one at which the occupants entered (
sponda
). The frame was strung with girths (
fasciae, restes, institae
), which supported a thick mattress (
torus, culcita
), on which were placed a bolster and pillow (
cubital, cervical
).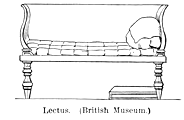 Lectus. (British Museum.)
A bed inferior in size and in materials was called by the diminutive name Lectŭlus or Lecticŭla,

Lectulus. (Pompeii.)
which also denoted a sofa, forming part of the usual furniture in a study (Pliny ,
Pliny Ep. v. 5, 5
; Ovid,
Trist.
i. 11, 39), and on which it was a common practice to recline at length while reading, and even writing, the tablet being placed against one knee, which was raised up as a support for the purpose. The lectus was also used instead of seats in dining-rooms, the guests reclining at table. The usual number of couches at a table was three—
summus, medius
, and
imus.
For a full treatment of the table-arrangements, see
Triclinium
.
---
2.
Lectus Geniālis or Iugālis, denotes the marriage-bed (
εὐνή
), to which the wife was conducted on the eve of her marriage by the
pronuba
, after she had retired from the bridal feast. (See
Matrimonium
.) It was a large bed, handsomely decorated, and raised to a very great height from the ground, as is indicated by the flight of steps at the foot in the illustration given in the article

Lectus Funebris. (Rich.)
Gradus
, p. 744, which represents the
lectus genialis
of Dido, in the Vatican Vergil.
---
3.
Lectus Funēbris is the name of the bier upon which dead bodies were carried out to the funeral pile, or to their place of sepulture, as shown by the annexed illustration from an ancient tombstone.