---
Pilleus, Pileus
or
Pilleum
(
πῖλος, πίλιον
). A round felt cap with little or no brim, lying close to the temples. It was the mark of fishermen, sailors, and artisans; hence Castor and Pollux, Odysseus, Charon , Hephaestus, and Daedalus are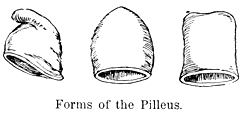 Forms of the Pilleus.
represented with it. The upper classes wore it only in the country or when travelling; but it was worn in Rome by the whole people at the Saturnalia, and by freedmen as a sign of their new position. Hence the phrase
ad pilleos vocare
means "to set free." (Cf.
Pers. iii. 106.
) The first form of pilleus represented in the illustration is that which has become in modern times the "liberty cap." It was Phrygian in its origin. It was placed on the head of slaves when sold, as a sign that the vender undertook no responsibility. See
Servus
. The diminutive forms pilleŏlus and pilleŏlum are also used.