---
Calix
(
κύλιξ
).
---
1.
The drinking-cup, usually made of earthenware, round, with a broad top, feet, and horizontal handles. The usual capacity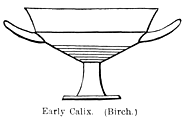 Early Calix. (Birch.)
was three
cotylae
, or 1.3 pints. The
cantharus
(q. v.) differed from the
calix
in being larger and having vertical handles. Besides earthenware, other materials are mentioned as used in the making of
calices
— e. g. wood, brass, silver, terebinth (
τέρμινθος
), and possibly glass (Photius, s. h. v.). Certain places are mentioned by Athenaeus as noted for their manufacture of drinking-cups, among them Argos, Chios, Lacedaemon, Rhodes, and Teos; and Martial speaks of Surrentum and Saguntum.

Latest Calix. (Birch.)
In Juvenal (v. 48) we read of
calices
called after a shoemaker of Beneventum, which had four nozzles. This was Vatinius (
Mart.xiv. 96
), who was afterwards a buffoon in the court of Nero (
Ann. xv. 34
), and the cups were called
Vatinii
(
Mart. x. 3, 4
). See
Birch, Ancient Pottery (1873)
.
---
2.
A tube regulating the supply of water, and attached to the end of each pipe where it entered the castellum of an aqueduct; it was probably of lead in the time of Vitruvius, such only being mentioned by him; but was made of bronze (
aëneus
) when Frontinus wrote, in order to check the roguery of the
aquarii
, who were able to increase or diminish the flow of water from the reservoir by compressing or extending the lead. As a further security, the
calix
was stamped with the owner's name as well as the capacity. There are two specimens of such
calices
in the Roman museums—one in the Vatican, another in the Museo Kircheriano. Pipes which had no
calix
were termed
solutae.