---
Gallĭcae
Gallic shoes, the French galoches, English
goloshes.
They were low shoes, not reach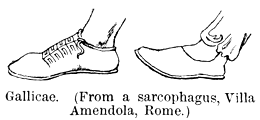 Gallicae. (From a sarcophagus, Villa Amendola, Rome.)
ing quite so high as the ankle, had one or more thick soles, and small upper leather, which was entirely open over the front of the instep, like the modern golosh and the right-hand figure in the illustration; or laced in front, and fastened by a ligature round the top, as in the lefthand example; whence they are classed among the
soleae
by the Latin writers, to distinguish them from the regular
calcei
, which were close-fitting high-lows that completely enveloped the foot and ankle. They were partially adopted at Rome before the age of Cicero, and were worn with the
lacerna;
but such a style of dress was regarded as indecorous and anti-national (
Cic. Phil. ii. 30
;
Gell. xiii. 21
). Under the Empire they came into more common use, and were made for all classes.